COMPANY PROFILE
Company Name
CENTRAL AUTOMOTIVE PRODUCTS LTD.
Founded
May, 1946
Capital
JPY 1billion (As the end of March 2021)
Stock Listing
Central Automotive Products Ltd. has been listed
on the 2nd section of the Tokyo Stock Exchange.
Head Office
2-30, 4-Chome, Nakanoshima, Kita-ku, Osaka 530-0005, Japan
Offices & Branches
Domestic: 14 branches and 2 logistic centers
Overseas : 7 subsidiaries and 3 offices
Affiliated Companies
ISHIKAWA TOYOPET COROLLA CO.,LTD.
CENTRAL AUTOMOTIVE INDUSTRY CO., LTD.
CENTRAL CORPORATION
ABT Corporation
Business
Development, Sale, Import and Export of Automotive parts.
Annual Sales
JPY27.6billion(FY ended March 31, 2021)
Employees
252(As the end of March, 2021)
COMPANY ORGANIZATION CHART
INTERNATIONAL SALES DIVISION ORGANIZATION CHART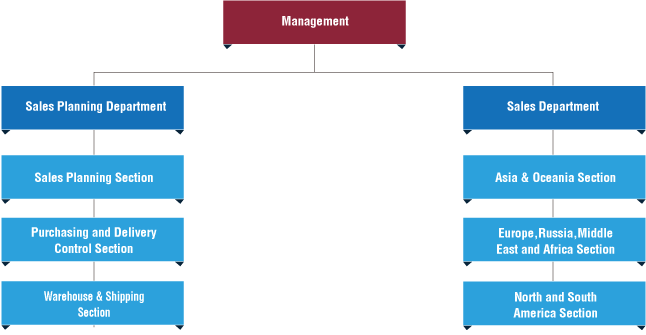 OVERSEAS SUBSIDIARIES AND OFFICES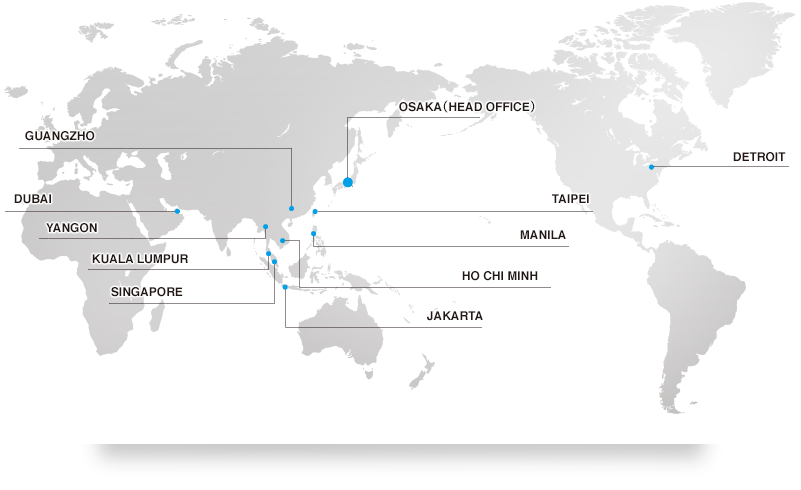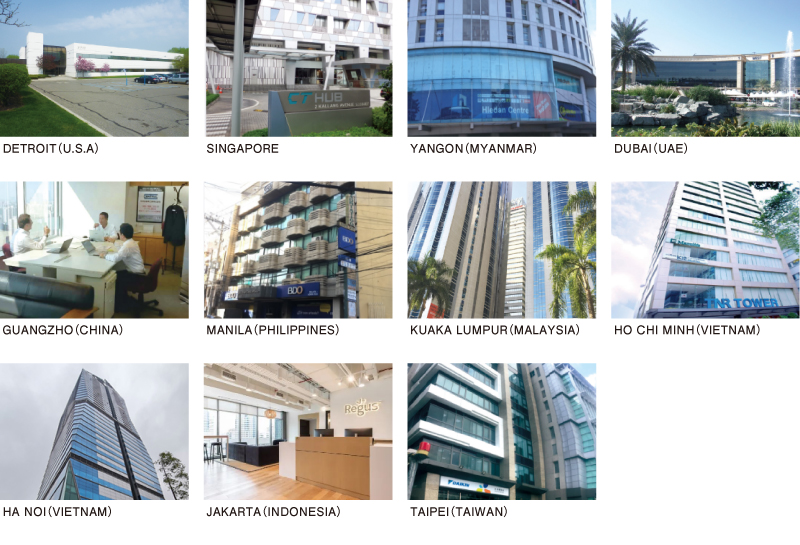 ■HEAD OFFICE
CENTRAL AUTOMOTIVE PRODUCTS LTD.
Address: 4-2-30, Nakanoshima, Kita-ku, Osaka, 530-0005 Japan
Tel: +81-6-6443-5111(Asia & Oceania Section)


+81-6-6443-5117(Europe, Russia, Middle East and Africa Section)




+81-6-6443-5118(North and South America Section)
■OVERSEAS SUBSIDIARIES
CAPCO PTE.LTD.
Address : 2 Kallang Avenue #09-11 CT Hub Singapore 339407
Tel: +65-6294-1915
CAPCO USA, INC.
Address : 31700 W. Thirteen Mile Rd., Suite 98 Farmington Hills, MI 48334, U.S.A.
Tel: +1-248-994-0815
CAPCO GUANGZHOU,LTD.
Address : 3806-B Room 38/F,Office Tower,CITIC Plaza, 233 Tianhe North Road, Guangzhou,510613, P.R.CHINA
Tel: +86-20-3888-2954
CAPCO MIDDLE EAST FZCO
Address : 6WA310, Dubai Airport Free Zone, P.O.Box 54852, Dubai, United Arab Emirates
Tel: +971-4-214-6362
CAPCO MANILA, INC
Address : UNIT501 Adriatico Executive Centre 1920 Adriatico St, Malate, Manila Manila, Philippines
Tel: +63-2242-2978
CAPCO(MALAYSIA) SDN.BHD.
Address : Suite 10, ETIQA TWINS, Level 25, Tower2, 11 Jalan Pinang 50450 , Kuala Lumpur, Malaysia
Tel +60-603-2726-9906
CAPCO VIETNAM COMPANY LIMITED
AAddress : Tang18,Toa nha TNR Tower, 180-192 Nguyen Cong Tru, Phuong Niguyen
Thai Binh, Quan 1,
Thanh pho Ho Chi Minh, Viet Nam
■OVERSEAS OFFICES
CENTRAL AUTOMOTIVE PRODUCTS LTD. JAKARTA OFFICE
Address : JB Tower Lt.10, Jl. Kebon Sirih No.48-50, Gambir, Jakarta Pusat 10110, Indonesia
Tel: +62-21-5084-8900
CAPCO PTE LTD YANGON BRANCH
Address : 309, 3rd Floor, Rangoun Business Center, No. 97 West Shwe Gon Daing Rd, Bahan Township, Yangon
Tel: +95 1-860-3042
CENTRAL AUTOMOTIVE PRODUCTS LTD. TAIPEI OFFICE
Address : 10th. Floor no.143, Fuxing North Road, Taipei City, 10547 Taiwan